Over the past, the Women's Union of Thai Nguyen City, with nearly 62,000 people, has had many practical activities to protect the environment and beautify the streets. Those activities and movements have created a widespread among officials and members.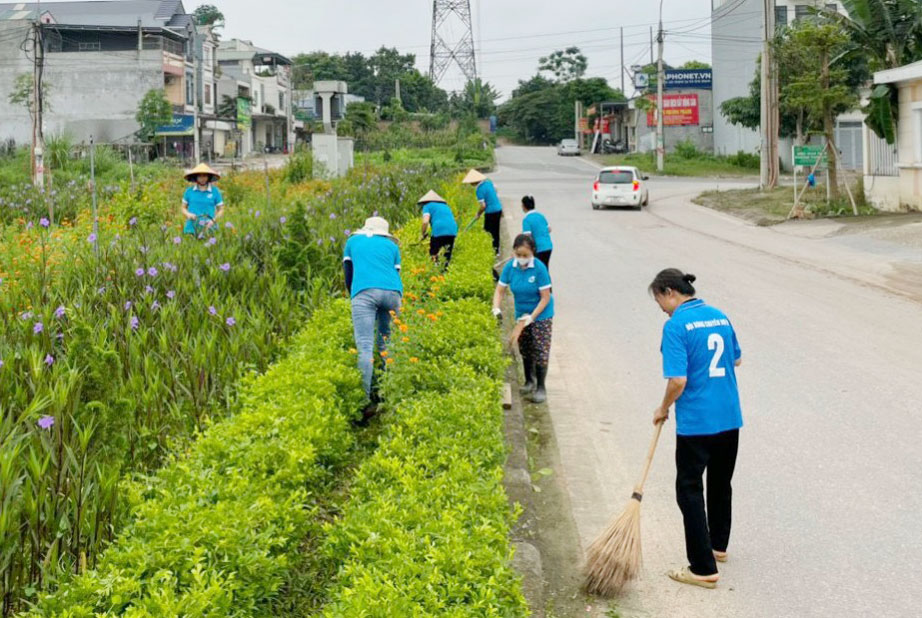 The woman in Thinh Dan ward take care the flower streets in the area.
Recently, many central streets or areas of village roads and alleys of Thai Nguyen city have been adorned with many blooming flowers, such as roses, chrysanthemums, and ten o'clock flowers. To achieve this result, the Women's Union of Thai Nguyen City has launched the contest "Blooming roads and city route" to the grassroots.
Ms. Vu Thi Nhung, Chairwoman of the Women's Union of Thinh Dan ward, shared: The contest was launched, and members at 11 branches enthusiastically responded. Some sections of the road with flowers were renovated and cared for by the members, and the sections without flowers will be planted with new flowers. In about 3 months, from the time of launching to the time of grading, 11 flower routes of 11 branches, with a length of about 4km of the Women's Union of Thinh Dan ward, blossomed and were highly appreciated by the superior association.
"Blooming roads and city route" is one of the many contents that the Women's Union of Thai Nguyen City launched to beautify the streets and create urban landscapes. In addition, recently, the City Women's Union has organized many activities and movements associated with the Association's work, such as the campaign of "5 No, 3 Clean" family associated with the implementation of the program of new rural construction; model "Women develop the economy and protect the environment"; the model "Collecting plant protection drug packaging"; the model "Women's Association produces microbiological fertilizers from domestic waste"...
For the movements and campaigns to be carried out effectively, the Women's Union of Thai Nguyen city promotes propaganda, raising awareness and responsibility of women in environmental protection, mobilizing members to associate production with environmental protection, and encouraging and supporting women in sustainable agricultural production.
Ms. Dinh Thi Tra Ly, Vice President of Thai Nguyen City Women's Union, said: With the various form and diverse propaganda content, along with effective and practical activities, Thai Nguyen City Women's Union at all levels has widely spread to officials and members about environmental protection, building and implementing a civilized lifestyle. In the coming time, the association will continue to promote and renew the propaganda and mobilization of members and people to implement a cultural and civilized urban lifestyle actively.