At the meeting, Mr. Duong Van Luong quickly informed the situation of socio-economic development and missions of the city in 2022. He affirmed that the relationship between the two localities in the past time has a strong attachment to each other.
Secretary of Thai Nguyen City Party Committee Duong Van Luong informed the city's socio-economic development.
Based on the good traditional relationship between the two countries, over the past time, Thai Nguyen province in general and Thai Nguyen in particular always focused on cooperation with localities of Laos in many fields. In education and training alone, nearly 1,400 Lao international students are currently studying and researching at universities and colleges in the province.
In the spirit of openness and friendship, the two cities' leaders exchanged experiences leading the political, administrative, and population management system and issues in education and land management, environmental resources, agricultural and forestry production, and cooperative models associated with tourism.
The Mayor of Luang Prabang city wishes to continue to receive the city's support to promote the potential and strengths of the locality, creating momentum for socio-economic development in the spirit of the signed memorandum of understanding. In addition, he offers support for a project that is a symbol of friendship between the two localities.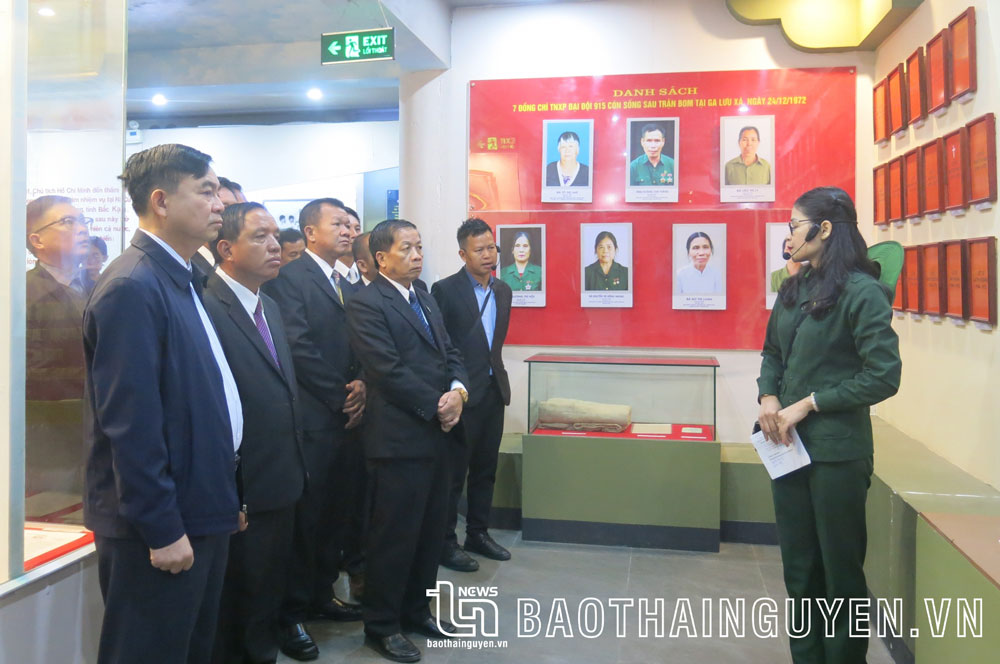 Delegates of Luang Prabang City visit the National Historic Site of 60 Young Martyrs Volunteers Company 915, Squad 91 Bac Thai, Gia Sang Ward (Thai Nguyen City)
The delegation also visited and worked at IRIS Primary, Secondary and High School; Vietnam Museum of Ethnic Cultures and Hao Dat Tea Cooperative, Tan Cuong commune.